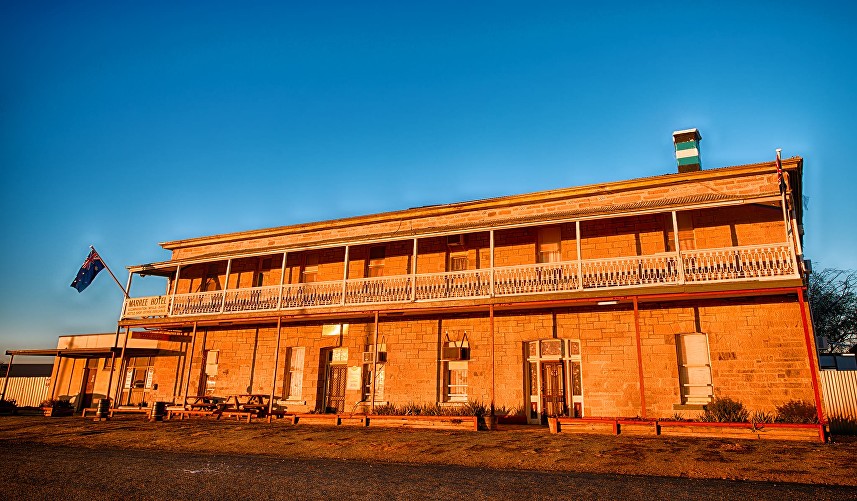 This magnificent heritage listed building is regarded as the most impressive of Australia's outback hotels.
The Marree Hotel is in superb condition and maintains the original 12 hotel rooms, but to cater for demand has recently added another 28 motel ensuite cabins. No outback adventure is complete without a stay at the Marree Hotel.  Hosts, Phil and Maz Turner will make sure your visit is enjoyable and, when you leave, you will have fond memories of our classic outback accommodation, food and hospitality.
You can relax around the hotel swimming pool and beer garden; enjoy a cold beer at the classic bar or enjoy a meal in one of the hotels 3 dining rooms. Dine in the John McDouall Stuart Museum, the Lake Eyre room with it's stunning surround panorama of Lake Eyre or, feast with an outback legend in the Tom Kruse Museum. 
The Museum (Tom Kruse – Birdsville Mailman) you can sense the reality, endurances and achievements that made Tom Kruse an outback legend. 
But whatever you do – make sure your outback adventure includes one of our scenic flights and a stay at the classic Marree Hotel.
Open every day from 8:00am untill late (bar opens at 10am). Excellent meals available daily from 12:00 noon until 2:00pm with dinner between 6:00pm and 8:00pm.
Friday night is "Happy Hour". 
Join in with the locals for the weekly darts competition and yarn with the pastoralists – fun for the whole family. It's on every Friday night from 8:00pm.