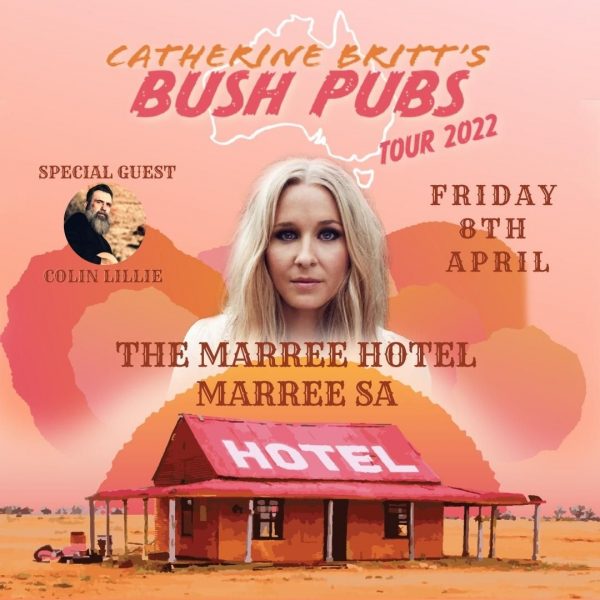 Multi award winning & top selling country artist, Catherine Britt, is bringing music to the bush & the outback with a special one off FREE show at the Marree Hotel on Friday 8th April!
Catherine and support artist, Colin Lillie will be performing live under the stars at the Marree Hotel at 7pm on Friday 8th April and what's even better is this gig is absolutely free to attend!
Catherine will be showcasing her new album, 'Home Truths' on tour to bush pubs all over Australia and the gig at the best Outback pub in South Australia will be rocking it out!
Over the course of her career Catherine has collected a host of accolades, a legion of fans and a mantel of awards including the country industry's highest honours, 2009 CMAA Female Artist of the Year Award, 2012 CMAA Single of the Year, 2013 CMAA Female Artist of the Year Award, 2016 Female Artist of the Year, 2017 Vocal Collaboration of The Year for her celebrated single "F U Cancer" as well as APRA Award and CMC Artist of the Year nominations. 6 of Catherine's albums released to date have been nominated for the ARIA Award for the Best Country Album release, which is a first for any Australian country artist. In 2010, Catherine was also presented with the CMA Global Artist of the Year award.
Since travelling around Australia for over 20 years, Catherine has felt that the music doesn't seem to reach the bush as much as it should. She has started The Bush Pubs Tour in Outback and rural bush pubs all over Australia and has found that the community is so in need of music and entertainment that they come out in droves thanks to the bush telegraph!
A bush pub is where the community and their families come together and spend quality time. A meeting place, a watering hole and a shared home for people in the bush. Catherine wants to go back to the old school ways and bring music back to the bush – like Slim Dusty did back in the day!
WHEN: 7PM, FRIDAY 8TH APRIL 2022
WHERE:  MAREE HOTEL, MARREE, 200 RAILWAY TERRACE SOUTH, SA
COST: FREE!
LISTEN TO CATHERINE ON SPOTIFY HERE
LISTEN TO COLIN LILLIE HERE
VISIT CATHERINE BRITT'S WEBSITE